Nancy comes to Kanosak with 4 dogs of her own: Andie, a 4-year-old female Golden Retriever; Micah, Andie's 1-year-old daughter; Storm, a 6-year-old Cardigan Welsh Corgy; and an 11-year-old Maltipoo named Tilly. Tilly is now retired and has a job as a watchdog.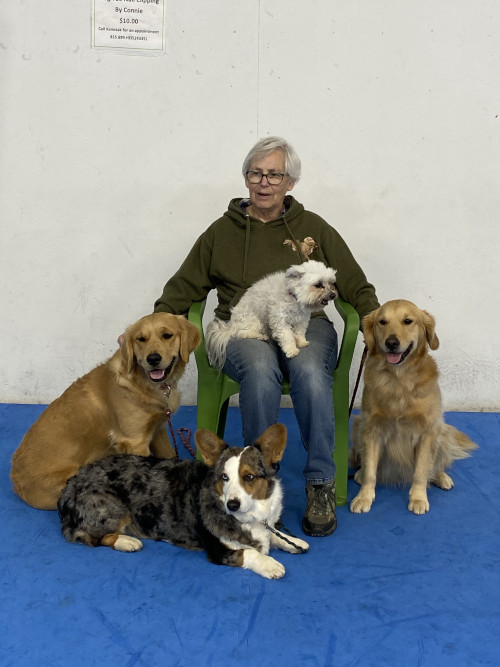 Nancy's background, until 20 years ago, was riding and competing Dressage, up to the Grand Prix level.
Now, however, Nancy has turned from horses to dogs. She has trained a Sealyham Terrier to utility and tracking titles, and a Cesky Terrier to utility, rally and agility titles. More recently she trained a Cardigan Welsh Corgi to an OTCH (with the help of our own Ronnie Bizer) and to advanced titles in rally, barn hunt, dock diving and a MACH 2 in agility.
Nancy's current Cardigan, Storm, is the #1 Cardigan in the country in Obedience and is working on his OTCH, as well as having titles in agility, barn hunt, Fast Cat, rally and Trick Dog. Andie is working on her advanced titles in obedience, Fast Cat, dock diving, barn hunt and competes in Rally at the national level, winning at the excellent level last year. Micah is just starting to complete.
Nancy says "Most of all, I love how working with your dog creates a connection and bond that works in everyday life and I have learned, that if you want to compete or just have a great companion dog, there has t be a goal to work towards."