Puppies are coming!
Kanosak's own Andie (Kanosak's Pretty In Pink RA NA OAJ BCAT TKN) and Prince (Wingate's Purple Rain On Kanosak BN, RN) are expecting puppies. The "Make" litter is due February 28. Contact Kanosak for more information
---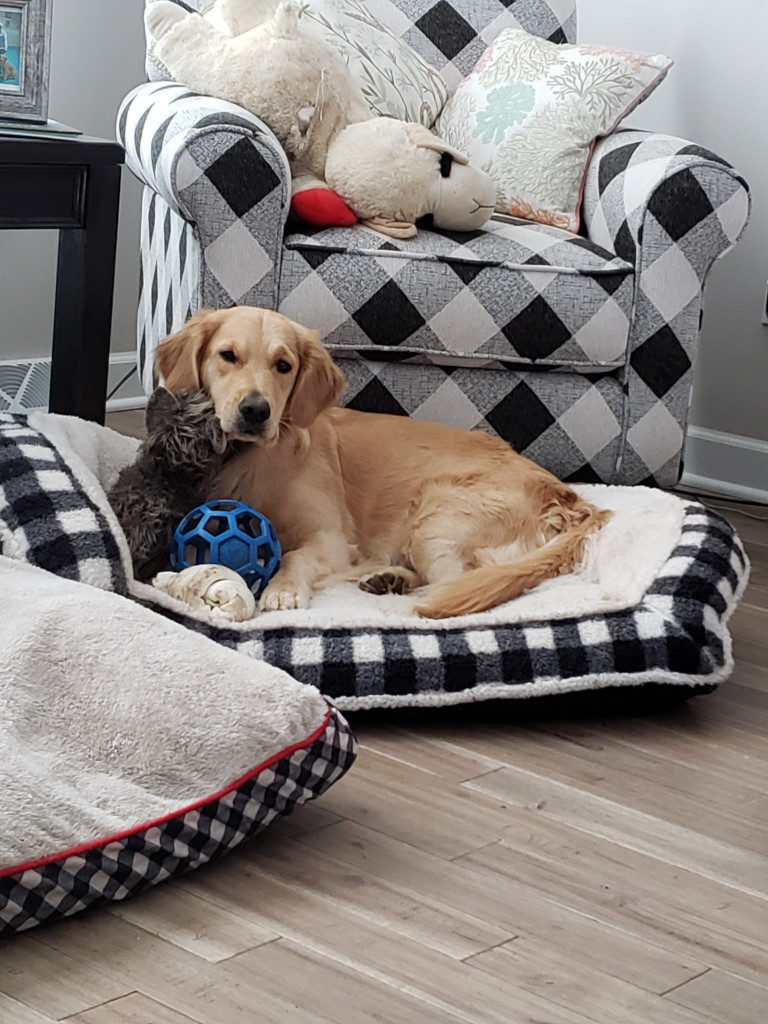 Andie is a biddable and beautiful compact Golden Retriever and is balanced
front and back with a beautiful shoulder layback, proper extension and
good drive from the rear. She is a medium/light Golden coloring with excellent black pigmentation and gorgious dark eyes.
Andie is extremely intelligent, an eager and quick learner in any discipline
which makes her the best dog to work and train. The end result is a partner
to compete, and succeed with, in any venue.
Or if I wish she will like on the couch "of course" in the evening while I watch TV or cook dinner.
She gets along with all household dogs making her the perfect companion either direction I choose.
Andie has competed with limited showing in:
Dock diving: achieved her dock diving Senior title Sept 2019 "Longest dive 19 feet"
Barn Hunt: achieved Master level with 3 legs towards her RATCH Sept 2019. Many firsts and High in Classes.
Rally: achieved Excellent Rally title November 2019. Many first places along the way.
Agility: achieved open titles in 5 trials and will be competing in excellent in future trials.
Obedience: achieved her BN, Novice titles last fall and has 2 legs toward Grad Nov title with 2 first places and will continue competing in future trials
See Andie's and Prince's pedigrees at K9Data.com
---
Prince is a substantial male golden, weighing in at 75 pounds and stands 21.88 high at the withers. He has a true golden coat, full dentation, scissors bite, black pigment, perfect tail set, and is balanced front to back.
He has been shown in the breed ring, earning 9 championship points.
Prince is a willing, energetic worker who loves every game he has been shown. His rally novice title was earned with all perfect 100 scores and his beginner novice scores were 198.5, 199.5 and 199.
Prince is currently working in agility and will begin showing later this year. He will also begin his novice obedience career later this spring when my knee is healed from surgery. He is currently trained through utility – knowing his signals, articles, go outs, etc.
Prince's favorite things are sitting on my couch chewing a bone or retrieving anything – you throw it, he'll get it as long as your arm holds out. What a fun boy he is.